als de nummers elkaar niet snel genoeg opvolgden en waar de frontman-vrouw dacht leuke verbindende teksten te ventileren, was men al snel de lul om afgerekend te worden met:
"Speuleh" en vaak gevolgd door het 3-letterwoord - ja das ook Brabant het gevoel van hier ahahahahaha net zoals Guus Geeuwis - d'n hele dag maar houdoe roepen mee un worstehbrooikeh in oew hand en de geruite sjaal om uwen nek, want het licht wil maar niet uitgaan in Brabant hahahah
anyway wat je hier kunt verwachten is alles wat ik zomaar speelde, voor de photobooth van Apple, of op een optreden ergens, of een repetitie in elk geval allemaal dingen die nooit op een plaat terecht zijn gekomen, omdat het overwegend te beroerd was haaaahhahhaha, just for fun! off the record guitar videos
as ge mij zout vragen - wah vindeh gij ultiem om te speleh - dan zeg ik thuis mee un sjardoneetje in de bank - dah vind ik het mooist - en as ge vraagt voor welk publiek dan? - dan zeg ik - ik vind het het fijnst om gewoon voor mezelf te spelen - sorry! - zelfs mijn vrouw loopt meestal weg
maar wel leuk als registratie van het"zijn" op dat tijdstip - de leukste dingen gebeuren immers als er geen verdere plannen voor zijn
alles wat gepland wordt valt immers achteraf zwaar tegen
ik heb altijd een hekel gehad aan cd's maken - het moest altijd op een bepaalde tijd gebeuren met een agenda en ook nog eens met andere mensen - terwijl niks leuker is dan alleen wanneer de pet er na staat wat te galbakken met het gevoel dat het toch de prullenbak in zal gaan - kijk das muziek maken - al het andere is flauwekul in een jasje - welnu geniet van mijn gerammel in het heelal - ik zelf vond het een hele eer om met mezelf te galbakken hahahaha - ik sloeg vaak de hand aan mezelf
enjoy............................
- Dit is een random selectie uit de honderden en honderden tapes,
allemaal dingen die gebeurd zijn. Of liever dingen me overkomen zijn hahaha
so don't shoot the messenger hahahahaha
Soms goed haafaai klinkend soms beroerd lowfaai ook hip klinkend.
Maar zo is het leven
1 ding staat - ik deed en ik doet ut met 100% overgave op dat moment van registratie.
mvg Johnny Dirven Giterreur juni 2018 d'n Homo Ludens
https://www.youtube.com/watch?v=8vpTU1s1luI
https://www.youtube.com/watch?v=wEoGlMkHzZI
https://www.youtube.com/watch?v=dXpT4Cz28c8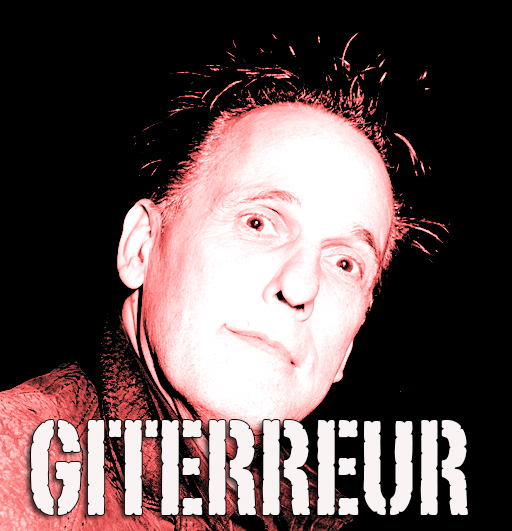 https://www.youtube.com/watch?v=o56l9KrXmSA
https://www.youtube.com/watch?v=0HKSulL2KaU
https://www.youtube.com/watch?v=jsJQ20TCmvw
https://www.youtube.com/watch?v=m_m23apH7DQ
https://www.youtube.com/watch?v=cvS-6fucaMc
https://www.youtube.com/watch?v=OUc_khflor8
https://www.youtube.com/watch?v=S-zuoRKDAY0
https://www.youtube.com/watch?v=RZKamLo-RAQ
https://www.youtube.com/watch?v=SIByeeVsz64
https://www.youtube.com/watch?v=Rg7JgAFbCd8
https://www.youtube.com/watch?v=MCEC-nHVD9I
https://www.youtube.com/watch?v=BLrdh78HDxk
https://www.youtube.com/watch?v=N4bvEz8aCq0
https://www.youtube.com/watch?v=HT1n0pd-VsQ
https://www.youtube.com/watch?v=1O8MoVVboao
https://www.youtube.com/watch?v=Xl2RMVuHDtY
https://www.youtube.com/watch?v=JY25e5l4WHs
https://www.youtube.com/watch?v=G10w7bVCEHI
https://www.youtube.com/watch?v=_uc_UjyCT54
https://www.youtube.com/watch?v=Xv0kk89MvBc
https://www.youtube.com/watch?v=TA57DFlXDmI
https://www.youtube.com/watch?v=A_V5UG6FDS0
https://www.youtube.com/watch?v=-Reix8hss6I
https://www.youtube.com/watch?v=7ht5C7JU6mg
https://www.youtube.com/watch?v=_Gl6UNu24ug
https://www.youtube.com/watch?v=VbVSBNhW3_0
https://www.youtube.com/watch?v=xgnyVsXbyhc
https://www.youtube.com/watch?v=kava58sxmqY
https://www.youtube.com/watch?v=KfnvSacc2ds
https://www.youtube.com/channel/UCEYEzpf7_EUqtRsSSA74BHA
https://www.youtube.com/watch?v=meY3ptvHAgg
https://www.youtube.com/watch?v=ajvLvZ2fRMM
https://www.youtube.com/watch?v=tAoWeOvIGyg
https://www.youtube.com/watch?v=uZMrEBOg3vE
https://www.youtube.com/watch?v=L0yiuD0usL0
https://www.youtube.com/watch?v=AmeuwhF_3bw
https://www.youtube.com/watch?v=ns-1fhM9NQ8
https://www.youtube.com/watch?v=VIpT460370g
https://www.youtube.com/watch?v=3fjDmBCOOSk
https://www.youtube.com/watch?v=Hr_TYJHqbIE
https://www.youtube.com/watch?v=74G7PRZZRLs
https://www.youtube.com/watch?v=LBiTuhDGWJM
https://www.youtube.com/watch?v=9zH6ZfCTwKY
https://www.youtube.com/watch?v=YQYHQdAM5hs
https://www.youtube.com/watch?v=p2CF2omK74s
https://www.youtube.com/watch?v=4dxF1BaDrvc
https://www.youtube.com/watch?v=4W-fk4R326M
https://www.youtube.com/watch?v=LQYfFtuTpNw
https://www.youtube.com/watch?v=yL6KDGBhEn0
https://www.youtube.com/watch?v=8JMpxm49LCM
https://www.youtube.com/watch?v=grdA2lKOn7M
https://www.youtube.com/watch?v=RnFAr3j_Cac
https://www.youtube.com/watch?v=T8Ms5oxO0Bc
https://www.youtube.com/user/johndirven/videos
https://www.youtube.com/watch?v=ZjPOK9xsBz4
https://www.youtube.com/watch?v=FFh3Rd7Ga6E
https://www.youtube.com/watch?v=5pXEKa_pXL4
https://www.youtube.com/watch?v=n_XBSPLTJ78
https://www.youtube.com/watch?v=MpAzFfURPn0
https://www.youtube.com/watch?v=TJ9CidYsSLI
https://www.youtube.com/watch?v=h5ST99Kx5oA
https://www.youtube.com/watch?v=tjtBIqBd0GQ
https://www.youtube.com/watch?v=QBQeFZNNaI8
https://www.youtube.com/watch?v=26Gcxxh-TLA
https://www.youtube.com/watch?v=oDWyTAF7acw
https://www.youtube.com/watch?v=8FjgJ5dtwKA
https://www.youtube.com/watch?v=NxsnyMwIi8M
https://www.youtube.com/watch?v=ObtXbpG7nZY
https://www.youtube.com/watch?v=-1VKDpIUXmg
https://www.youtube.com/watch?v=_ha0Nkpci6A
https://www.youtube.com/watch?v=48SOebUD4-k
https://www.youtube.com/watch?v=anFEkD2bfw8
https://www.youtube.com/watch?v=ZB5e8yMBOi0
https://www.youtube.com/watch?v=l_F8quAgrns
https://www.youtube.com/watch?v=umJfFRNi_4Y
https://www.youtube.com/watch?v=RJaCxiu7-Dg
https://www.youtube.com/watch?v=DhGDbwMZxis
https://www.youtube.com/watch?v=ltL_m-IMfnY
https://www.youtube.com/watch?v=kaOmBXjUKYg
https://www.youtube.com/watch?v=AVteBlgIZMY
https://www.youtube.com/watch?v=PDC_l9RN28U
https://www.youtube.com/watch?v=-HveaRE9dOo
https://www.youtube.com/watch?v=cRndCD_ptrk
https://www.youtube.com/watch?v=kSVc72AwvUk
https://www.youtube.com/watch?v=rEPCboia9nc
https://www.youtube.com/watch?v=jqHxpXkzuX4
https://www.youtube.com/watch?v=rOKhyBTEQPA
https://www.youtube.com/watch?v=gvHHuNLQ-ug
https://www.youtube.com/watch?v=uvuQMhzmCxw
https://www.youtube.com/watch?v=J0eKG6FJKR8
https://www.youtube.com/watch?v=xV4LkpKcdm4
https://www.youtube.com/watch?v=XHErZFALQ30
https://www.youtube.com/watch?v=Pnk18TKDomE
https://www.youtube.com/watch?v=bTv0kmURhtA
https://www.youtube.com/watch?v=Pn6A4LvKmv8
https://www.youtube.com/watch?v=gA5rifqedsU
https://www.youtube.com/watch?v=azfopuu8aWs
https://www.youtube.com/watch?v=G3orV2KQl2Y
https://www.youtube.com/watch?v=1R8od0NqKtw
https://www.youtube.com/watch?v=OyQxfU8LiZE
https://www.youtube.com/watch?v=PPjlKp68O9U
https://www.youtube.com/watch?v=1vqJ5deVcxo
https://www.youtube.com/watch?v=URwMDUrUK_Q
https://www.youtube.com/watch?v=6H2uGuGGhnE
https://www.youtube.com/watch?v=DeW5be9RVoY
https://www.youtube.com/watch?v=rLNbwethkzo
https://www.youtube.com/watch?v=BmYFWdLlwGc
https://www.youtube.com/watch?v=Z760v83pog8
https://www.youtube.com/watch?v=_8HqR-9WMzE
https://www.youtube.com/watch?v=ENoe_P7sHVQ
https://www.youtube.com/watch?v=i9UJpV3vTRY
https://www.youtube.com/watch?v=JWuO3RZ0HMc
https://www.youtube.com/watch?v=tc8RCmYOh2o
https://www.youtube.com/watch?v=Bi12euR7b-k
https://www.youtube.com/watch?v=oW5v_4lU2FQ
https://www.youtube.com/watch?v=3PXISi8HuGU
https://www.youtube.com/watch?v=vOtzLVZvze8
https://www.youtube.com/watch?v=wDQ98NkqTc4
https://www.youtube.com/watch?v=oSvOXQCaVRc
https://www.youtube.com/watch?v=EBeRa5akzc8
https://www.youtube.com/watch?v=lGy77tFoBHg
https://www.youtube.com/watch?v=04AHqnIsl1A
https://www.youtube.com/watch?v=Ky7xtLY50UU
https://www.youtube.com/watch?v=q_tL-ozaCgQ
https://www.youtube.com/watch?v=CQ6fCKgQJkA
https://www.youtube.com/watch?v=slWo5fpOy9k
https://www.youtube.com/watch?v=aFKiRrYfLSI
https://www.youtube.com/watch?v=1q7zXzq2yGs
https://www.youtube.com/watch?v=_rr5edw7Gp8
https://www.youtube.com/watch?v=eumf-iqu4QU
https://www.youtube.com/watch?v=5pq8jClJ9Jg
https://www.youtube.com/watch?v=ThavdSRuz70
https://www.youtube.com/watch?v=LhRjhYy1ABQ
https://www.youtube.com/watch?v=Hxt00cUb6K8
https://www.youtube.com/watch?v=DDfIxKvY9l4
https://www.youtube.com/watch?v=RpPMDHITje8
https://www.youtube.com/watch?v=x8O3GZtMRJA
https://www.youtube.com/watch?v=qljT54CphoM
https://www.youtube.com/watch?v=Shr-jzR71-I
https://www.youtube.com/watch?v=RCfJMR9_lSY
https://www.youtube.com/watch?v=bmTinFVFM-I
https://www.youtube.com/watch?v=RduCneokR7s
https://www.youtube.com/watch?v=410j8ZIImLo
https://www.youtube.com/watch?v=xb6tevXCp3k
https://www.youtube.com/watch?v=iE8SKV52z8k
https://www.youtube.com/watch?v=6r4l3-TxMHk
https://www.youtube.com/watch?v=qqgTX9J8Iro
https://www.youtube.com/edit?o=U&video_id=6KrjKi6VmRc
https://www.youtube.com/watch?v=85YYpfK1C2s
https://www.youtube.com/watch?v=OV32YrdXcvM
https://www.youtube.com/watch?v=GDNX1av4RBM
https://www.youtube.com/watch?v=_GIKtaOgegY
https://www.youtube.com/watch?v=hmp_3LMPi0k
https://www.youtube.com/watch?v=qaLW_KGX_QE
https://www.youtube.com/watch?v=wB4V6w0INXM
https://www.youtube.com/watch?v=0BIh3myFRyc
https://www.youtube.com/watch?v=8VAqzEpcRmw
https://www.youtube.com/watch?v=GLBeShouiu8
https://www.youtube.com/watch?v=XvwqiI-lgl8
https://www.youtube.com/watch?v=U4LIF-Q9ZPQ
https://www.youtube.com/watch?v=Ox1gzVv68S0
https://www.youtube.com/watch?v=OrIhQtsj5UI
https://www.youtube.com/watch?v=vku9cCJ_nGs
https://www.youtube.com/watch?v=m3FuJ6mZcvQ
https://www.youtube.com/watch?v=tbF71atw_Dw
https://www.youtube.com/watch?v=3CdijgGin_E
https://www.youtube.com/watch?v=rZGMFO6neVk
https://www.youtube.com/watch?v=hI4A84n3BI8
https://www.youtube.com/watch?v=wQrkAWEsiBU
https://www.youtube.com/watch?v=9-iDn1ycEDM
https://www.youtube.com/watch?v=s2tndl3kxQg
https://www.youtube.com/watch?v=5ZCSbTDpwDI
https://www.youtube.com/watch?v=qTp_VC4CeWw
the urls following below - have to be fixed soon
you can't click them yet - but coypy paste

10-11
https://www.youtube.com/watch?v=1ztcRMOdnE0
https://www.youtube.com/watch?v=Xo_4t0_Dt3Y
https://www.youtube.com/watch?v=GMP3FXTw6bY
https://www.youtube.com/watch?v=iDum4Q5nKxI
https://www.youtube.com/watch?v=L-bOKuiAFkc
https://www.youtube.com/watch?v=e0d1701wieY
https://www.youtube.com/watch?v=4vPco72Q218
https://www.youtube.com/watch?v=bAzfRGu0ilw
https://www.youtube.com/watch?v=bDW4464fMdU
https://www.youtube.com/watch?v=XGzqmoiqsmw
https://www.youtube.com/watch?v=62Mb_ra9F9I
https://www.youtube.com/watch?v=1GNEVuyESVU
https://www.youtube.com/watch?v=swFUmnXbHPQ
https://www.youtube.com/watch?v=df6X5Pgw2lY
https://www.youtube.com/watch?v=0sHjvHOuU_k
https://www.youtube.com/watch?v=qfsRbyMcl18
https://www.youtube.com/watch?v=yh5u8S4MOMw
https://www.youtube.com/watch?v=1Ogh59zMR54
https://www.youtube.com/watch?v=RU2wpg3Razg
https://www.youtube.com/watch?v=yTpvPEXlB40
https://www.youtube.com/watch?v=pPS1JvwQy78
https://www.youtube.com/watch?v=Tzl7rDbUgCQ
https://www.youtube.com/watch?v=v3JoCh8OCdo
https://www.youtube.com/watch?v=MeN_E9jLzDg
https://www.youtube.com/watch?v=M5rZIRi0Mi4
https://www.youtube.com/watch?v=5nO40fBQchw
https://www.youtube.com/watch?v=boSmygPUZmE
https://www.youtube.com/watch?v=Rm9UjGAeDXA
12-13
https://www.youtube.com/watch?v=TfiHXYEDkyM
https://www.youtube.com/watch?v=wvJ-5ORkD5I
https://www.youtube.com/watch?v=HBHCoGyjkE8
https://www.youtube.com/watch?v=4aGXszhFoLs
https://www.youtube.com/watch?v=f8__baVHKQk
https://www.youtube.com/watch?v=7AKqMocccYo
https://www.youtube.com/watch?v=M5-U5cdsBAM
https://www.youtube.com/watch?v=fXLcl0UixvY
https://www.youtube.com/watch?v=oVu7A_G0Ncs
https://www.youtube.com/watch?v=cx18SgdedZM
https://www.youtube.com/watch?v=KFD3Fg1O0aQ
https://www.youtube.com/watch?v=88Z8vmzbpiQ
https://www.youtube.com/watch?v=6EM9yBIvDHo
https://www.youtube.com/watch?v=-SfzOvz5wcw
https://www.youtube.com/watch?v=GKp7rmqFCa0
https://www.youtube.com/watch?v=wxvzVL-2Pz4
https://www.youtube.com/watch?v=gRSAt6xvDP8
https://www.youtube.com/watch?v=tAATT6tzJLY
https://www.youtube.com/watch?v=oENUvFgN2io
https://www.youtube.com/watch?v=ewpU9aGmEMI
https://www.youtube.com/watch?v=Njf5VTvg6_k
https://www.youtube.com/watch?v=o4h8bubjZ2c
https://www.youtube.com/watch?v=COixuqQ78WQ
https://www.youtube.com/watch?v=elWnCWM5M1g
https://www.youtube.com/watch?v=GgtNN_3b6UA
https://www.youtube.com/watch?v=UnHI4PT7iIU
14-15
https://www.youtube.com/watch?v=-KOMPrBrn2Y
https://www.youtube.com/watch?v=7KUM6OG2gIE
https://www.youtube.com/watch?v=uGPIgIUwQRM
https://www.youtube.com/watch?v=hcZTqOgM5lE
https://www.youtube.com/watch?v=rV-wsvpOpJE
https://www.youtube.com/watch?v=1ZHS_o2q3Sk
https://www.youtube.com/watch?v=j6dEtwHfhYo
https://www.youtube.com/watch?v=uQhSfuYsOHs
https://www.youtube.com/watch?v=MDaW5dQjTJ0
https://www.youtube.com/watch?v=wPHuUyYt_7Y
https://www.youtube.com/watch?v=GmfvA37MswQ
https://www.youtube.com/watch?v=UJZrqMokInE
https://www.youtube.com/watch?v=4GhfTt4jhmo
https://www.youtube.com/watch?v=VQlZvnwbCNg
https://www.youtube.com/watch?v=Ksmvf5H9jac
https://www.youtube.com/watch?v=g8p-TnO4aU0
https://www.youtube.com/watch?v=HPoQebo61Oo
https://www.youtube.com/watch?v=O1PaV8Xm1OA
https://www.youtube.com/watch?v=Yetky86k1ys
https://www.youtube.com/watch?v=HXGK6LKRd5U
https://www.youtube.com/watch?v=sC7apYMzMT4
https://www.youtube.com/watch?v=wsNf-O2P8v4
https://www.youtube.com/watch?v=g5CpbeyCS_o
https://www.youtube.com/watch?v=BbbBEpKixr4
https://www.youtube.com/watch?v=b_oeAcrLR0g
https://www.youtube.com/watch?v=rwly-Nq6dZ4
https://www.youtube.com/watch?v=YWu5SFBCoRk
https://www.youtube.com/watch?v=6ybqDGraM5k
https://www.youtube.com/watch?v=K3HgU83NUe8
https://www.youtube.com/watch?v=QHIjzZsx8kw
https://www.youtube.com/watch?v=17Uz1x8fvic
https://www.youtube.com/watch?v=VxzJicjJw_o
https://www.youtube.com/watch?v=tiuoxJzaAXw
https://www.youtube.com/watch?v=q-thyTsfRvY
https://www.youtube.com/watch?v=VgrlMO2JSR4
16-17
https://www.youtube.com/watch?v=-rAlfzsdHXs
https://www.youtube.com/watch?v=FglTkbDStPY
https://www.youtube.com/watch?v=kV0iypht3UM
https://www.youtube.com/watch?v=B2qje-yCqZI
https://www.youtube.com/watch?v=v8XOYEw9-kU
https://www.youtube.com/watch?v=4SGvKode5yE
https://www.youtube.com/watch?v=OhaQqck4yRs
https://www.youtube.com/watch?v=if2l_D-e4NE
https://www.youtube.com/watch?v=QmMZ5o91wj8
https://www.youtube.com/watch?v=0FlAbPaQWmE
https://www.youtube.com/watch?v=AyZQCNZigcY
https://www.youtube.com/watch?v=ZZ-Wqo9TDLI
https://www.youtube.com/watch?v=X-ESjIXoqjo
https://www.youtube.com/watch?v=pWBM804TXCg
https://www.youtube.com/watch?v=D1w8zBqIyoc
https://www.youtube.com/watch?v=asOSlxb3-K4
https://www.youtube.com/watch?v=vQtwgwpqD6w
https://www.youtube.com/watch?v=6GMnXsgPkEw
https://www.youtube.com/watch?v=Jm01rGdeHLM
https://www.youtube.com/watch?v=Mq7iErlsuJY
https://www.youtube.com/watch?v=MoXWpStSv6o
https://www.youtube.com/watch?v=bH-ILJYfUU0
https://www.youtube.com/watch?v=g_ot3NrR4dw
https://www.youtube.com/watch?v=-oj6j3mfyeg
https://www.youtube.com/watch?v=pHipauoUQyU
https://www.youtube.com/watch?v=qtRdqTT7Coc
https://www.youtube.com/watch?v=F3UkkOUfKrY
https://www.youtube.com/watch?v=X65XGWspvGE
https://www.youtube.com/watch?v=q69GbaIozjc
https://www.youtube.com/watch?v=q69GbaIozjc
https://www.youtube.com/watch?v=svMpLorIBLQ
https://www.youtube.com/watch?v=CVLshBDvS4o
https://www.youtube.com/watch?v=DivO9adgRts
18-19
https://www.youtube.com/watch?v=0A4FlZlhwLo
https://www.youtube.com/watch?v=F2OETGY3sGs
https://www.youtube.com/watch?v=-U-8KoUtAbA
https://www.youtube.com/watch?v=LYHRN0c3_Kw
https://www.youtube.com/watch?v=M2-oZIcb5io
https://www.youtube.com/watch?v=vgY0UXstmf4
https://www.youtube.com/watch?v=pxSmK8agYgs
https://www.youtube.com/watch?v=LIDKTBqUjwo
https://www.youtube.com/watch?v=-25ysn379P8
https://www.youtube.com/watch?v=jHbfzw7rR-k
https://www.youtube.com/watch?v=eKL-jqwz7Jk
https://www.youtube.com/watch?v=RGv4xHEMMpM
https://www.youtube.com/watch?v=eRbm0-dSa-o
https://www.youtube.com/watch?v=v03-vtimpnE
https://www.youtube.com/watch?v=YOYtRtG468Q
https://www.youtube.com/watch?v=0XwDowCJLW0
https://www.youtube.com/watch?v=nc4Ahvv6PiE
https://www.youtube.com/watch?v=lRcKNC01c2A
https://www.youtube.com/watch?v=BWgqv4Bb2wQ
https://www.youtube.com/watch?v=VNwcAdCjfLY
https://www.youtube.com/watch?v=MF8YAriasRk
https://www.youtube.com/watch?v=MdXw2foF1zs
https://www.youtube.com/watch?v=vqvzChIkEec
https://www.youtube.com/watch?v=FphO8CpHQCY
https://www.youtube.com/watch?v=gj6Nf_PdQRg&t=20s
https://www.youtube.com/watch?v=tNpDViPQgsE
https://www.youtube.com/watch?v=87S4QIiWMP4
https://www.youtube.com/watch?v=82X4G51RJr0
https://www.youtube.com/watch?v=jtXkjtScs6k
https://www.youtube.com/watch?v=tXHDgwNEVAo
https://www.youtube.com/watch?v=sJTaAU4wGes
20-21
https://www.youtube.com/watch?v=ZupmWsUCY_c
https://www.youtube.com/watch?v=tQ8cVVmGhvU
https://www.youtube.com/watch?v=OcQnUZZ-1do
https://www.youtube.com/watch?v=dEu7rSiahP8
https://www.youtube.com/watch?v=XipU2epLJeM
https://www.youtube.com/watch?v=ywyImv1d9XM
https://www.youtube.com/watch?v=3NN0FO2EV-Y
https://www.youtube.com/watch?v=Ef7PKykljqU
https://www.youtube.com/watch?v=pxA2rgyKIsk
https://www.youtube.com/watch?v=cNL3RtkAoGU
https://www.youtube.com/watch?v=fydMNJkCBUI
https://www.youtube.com/watch?v=11LzIm9SGy0
https://www.youtube.com/watch?v=EPr4PKL-7f4
https://www.youtube.com/watch?v=MiuWeJv0fsw
https://www.youtube.com/watch?v=9BmhCQ3LHg0
https://www.youtube.com/watch?v=7Oy9_CEfmTM
https://www.youtube.com/watch?v=nV-h6JMDrQg
https://www.youtube.com/watch?v=9MhqgNQFpLU
https://www.youtube.com/watch?v=QDiWZh6NNAo
https://www.youtube.com/watch?v=BWxTD5XBNDE
https://www.youtube.com/watch?v=2tr6v_LgCis
https://www.youtube.com/watch?v=lqIZJTpqDzM
https://www.youtube.com/watch?v=BCC8h50jqAc
https://www.youtube.com/watch?v=ywyImv1d9XM
https://www.youtube.com/watch?v=0Lk7BxdAurI
https://www.youtube.com/watch?v=p8WpWfF_v3E
brand new website ! http://johndirven.com/
https://www.youtube.com/watch?v=nMKhQrl30uQ
https://www.youtube.com/user/MrJohanneslambertus
https://www.youtube.com/watch?v=6oGTc_JEelI
https://www.youtube.com/watch?v=0ZFTzd6klQU
https://www.youtube.com/watch?v=jtvUSL5Hf_w&t=2s
https://www.youtube.com/watch?v=3hYI0VHFw-k
https://www.youtube.com/watch?v=N97h48s40iA
https://www.youtube.com/watch?v=pv1_41-Z0NQ
https://www.youtube.com/watch?v=BNJ9GFC1UDs
https://www.youtube.com/watch?v=LgdORobph7w
https://www.youtube.com/watch?v=oPSR9XNalgY
https://www.youtube.com/watch?v=hiyKkocfkjo
https://www.youtube.com/watch?v=TgPEONIUWio
https://www.youtube.com/watch?v=rAvSCznNms0
https://www.youtube.com/watch?v=Ruo8vU8Ud6Q
https://www.youtube.com/watch?v=QSzMI9xQ5Ik
https://www.youtube.com/watch?v=DvDebDVMXaI
https://www.youtube.com/watch?v=JIDAx6JJqg8
https://www.youtube.com/watch?v=I3XyNaWMZCk
https://www.youtube.com/watch?v=nMKhQrl30uQ
https://www.youtube.com/watch?v=WcdYZvvj-3M
https://www.youtube.com/watch?v=tSsBDAxaqaE
https://www.youtube.com/watch?v=BrUsasNFBA4&t=3s
https://www.youtube.com/watch?v=2ddsPyB5fkY
https://www.youtube.com/watch?v=CJq0Hb0DQs0&t=114s
https://www.youtube.com/watch?v=2PqfddehKTo
https://www.youtube.com/watch?v=CtOy6Nil6Qw
https://www.youtube.com/watch?v=-J2tkiGFub8
https://www.youtube.com/watch?v=f6LAC-JXKRE
https://www.youtube.com/watch?v=vNbQQ85EnCs
https://www.youtube.com/watch?v=1SGXjKSbaKI&t=1s
https://www.youtube.com/watch?v=P1VRSPEHgJM
https://www.youtube.com/watch?v=TDfArOFROFo
https://www.youtube.com/watch?v=oM09Q9e0BFI
https://www.youtube.com/channel/UCEYEzpf7_EUqtRsSSA74BHA/videos
https://www.youtube.com/watch?v=MPJxEvbGxaI
https://www.youtube.com/watch?v=UWuBPvR2ws8&t=2s
https://www.youtube.com/watch?v=1vhGZt6d56A
https://www.youtube.com/watch?v=5w9XYCO_rRE
https://www.youtube.com/watch?v=wM3mU34t0Pw
https://www.youtube.com/watch?v=GOKPA_o2yx8&t=13s
https://www.youtube.com/watch?v=lqL9sX_ssHk
https://www.youtube.com/watch?v=v6sMZs3fJ80
https://www.youtube.com/watch?v=_N7vD6YhLIY&t=1s
https://www.youtube.com/watch?v=60fJK4Ad9Ks
https://www.youtube.com/watch?v=TcLqmhg2Qbo
https://www.youtube.com/watch?v=6Mev0givC3M
https://www.youtube.com/watch?v=wdDMo7C1FlI&t=2s
https://www.youtube.com/watch?v=VYn8oYRfqTM
https://www.youtube.com/watch?v=OlBD3v8EYCs&t=1s
https://www.youtube.com/user/johndirven/videos
https://www.youtube.com/watch?v=p_oGTP-POwk
https://www.youtube.com/watch?v=prfe4b63_XM
https://www.youtube.com/watch?v=hCO7Ufg-MPQ
https://www.youtube.com/watch?v=Rc6MLA3d6Fo
https://www.youtube.com/watch?v=pTLy-I31UYw
https://www.youtube.com/watch?v=Dq4xckfZFxI
https://www.youtube.com/watch?v=t_OGA05A20w&t=932s
https://www.youtube.com/watch?v=zLwoD2d3Ab4
https://www.youtube.com/watch?v=uooIE9f-IUA
https://www.youtube.com/watch?v=FHj3meJ6pPM
https://www.youtube.com/watch?v=hcP-I7UruFE&t=2s
https://www.youtube.com/watch?v=uq2ckhNsufo